For the first time, a cross-country skiing World Cup was held in the Swiss Engadin. The season finale in Oslo was cancelled due to the corona virus and was relocated to Switzerland. The last World Cup weekend started in fantastic conditions with bright sunshine and optimal snow conditions. The men had to fight for the placings in the 15 km mass start in classic style – the women had to compete in the 10 km mass start.
The outstanding cross-country skier Alexander Bolshunov from Russia, who already won the overall World Cup in advance, showed his strength again and outclassed his competitors. Especially the duel between Bolshunov and the Norwegian Johannes Hoesflot Klaebo was the focus of attention. The Norwegian was able to secure second place with a gap of 18.4 seconds, ahead of his teammate Paal Golberg. Best German was Sebastian Eisenlauer on rank 29.
With his victory in the mass start Bolshunov also secured a good starting position for the last race – the 50 kilometer pursuit.
In the women's race Yulia Stupak, also a Russian, stood on the top of the podium. Without the strong Norwegian Therese Johaug, who showed outstanding performances at the Nordic World Championships in Oberstdorf, the 10 km mass start in classic style for women took place. She was absent due to an infection of the wrist. With the absence of the favorite, the outcome of the race was open for a long time. Only from the halfway point a small group with Yulia Stupak, Heidi Weng from Norway and Ebba Andersson from Sweden could break away from the competition. Stupak was able to gain a small lead over her competitors and crossed the finish line 7.1 seconds ahead of the others. The German women showed a strong team result, especially Laura Gimmler convinced and could secure the fourth place. With Katharina Hennig in sixth place and Victoria Carl (10th) two more Germans made it into the top10. Pia Fink also showed her good performance with her 16th place.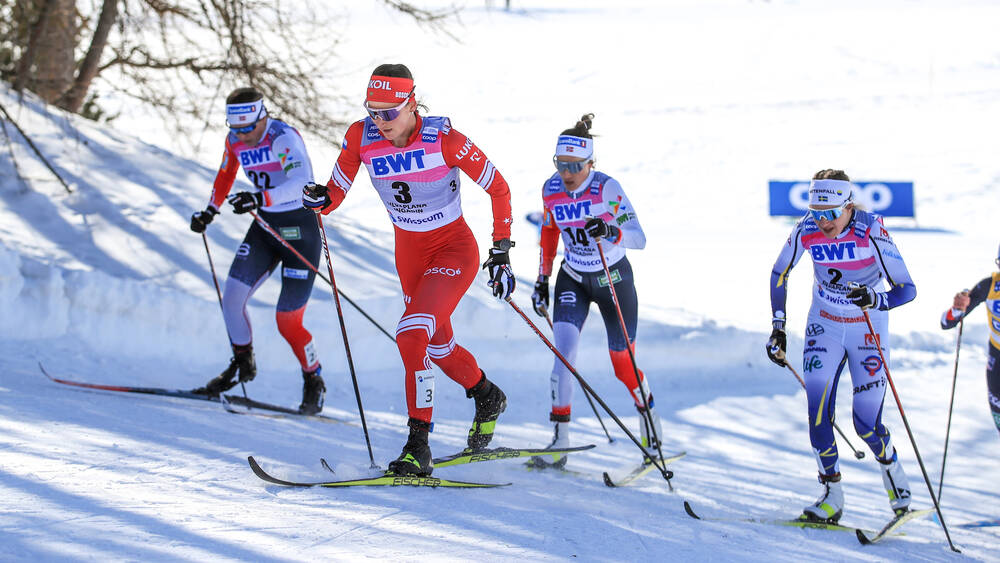 Erster Weltcup der Langläufer in Engadin mit glücklichem Ausgang für Russland
Zum ersten Mal fand ein Langlauf-Weltcup im schweizerischen Engadin statt. Der Saisonabschluss in Oslo wurde coronabedingt abgesagt und in die Schweiz verlegt. Bei traumhaften Bedingungen mit strahlendem Sonnenschein und optimalen Schneeverhältnissen startete das letzte Weltcup-Wochenende. Die Herren mussten im 15 km Massenstart im klassischen Stil um die Platzierungen kämpfen – bei den Frauen standen 10 km Massenstart an.
Der überragende Langläufer Alexander Bolshunov aus Russland, der bereits vorab den Gesamtweltcup für sich entscheiden konnte, zeigte erneut seine Stärke und deklassierte seine Konkurrenz. Besonders auf das Duell Bolshunov gegen den Norweger Johannes Hoesflot Klaebo waren alle Augen gerichtet. Der Norweger konnte sich mit einem Rückstand von 18,4 Sekunden Platz zwei sichern, vor seinem Teamkollegen Paal Golberg. Bester Deutscher wurde Sebastian Eisenlauer auf Rang 29.
Mit seinem Sieg im Massenstart sichert sich Bolshunov auch eine gute Ausgangsposition für das letzte Rennen – den Verfolger über 50 Kilometer.
Bei den Frauen stand mit Yulia Stupak ebenfalls eine Russin ganz oben auf dem Podest. Ohne die starke Norwegerin Therese Johaug, die bei der Nordischen WM in Oberstdorf überragende Leistungen gezeigt hat, fand der 10 km Massenstart im klassischen Stil für die Frauen statt. Sie fehlte aufgrund einer Entzündung des Handgelenks. Mit dem Fernbleiben der Favoritin war der Ausgang des Rennens lange Zeit offen. Erst ab etwa der Hälfte des Rennes konnte sich eine kleine Gruppe um Yulia Stupak, Heidi Weng aus Norwegen und Ebba Andersson aus Schweden von der Konkurrenz absetzen. Stupak erarbeitet sich einen kleinen Vorsprung auf die Konkurrentinnen, um letztlich mit 7,1 Sekunden vor den anderen ins Ziel einlaufen. Die deutschen Frauen zeigten ein starkes Mannschaftsergebnis, besonders Laura Gimmler überzeugte und konnte sich den vierten Platz sichern. Mit Katharina Hennig auf Rang sechs und Victoria Carl (10.) schafften es noch zwei weitere Deutsche in die Top10. Auch Pia Fink zeigte mit ihrem 16. Platz eine gute Leistung.
Fotos: GEPA pictures / Mario Buehner