Klaebo and Valnes win for Norway
The first decision on today's competition day in Oberstdorf was the decision in cross-country skiing. The strong Swedish team with Maja Dahlqvist and Jonna Sundling won the women's race. On the second place fought themselves with a super performance the two Swiss Laurien Van der Graaff and Nadine Faehndrich, who took over the final lap, put everything on one card and Slovenia, who took the third place as well as Russia left behind. The Russians Natalia Nepryaeva and Yulia Stupak were always running for a medal, but then missed it shortly before the end, which caused a great disappointment.
In the men's event the favorite team from Norway won. Erik Valnes and Johannes Hoesflot Klaebo took the lead and became world champions. For the young Erik Valnes this was the first really big success in his career, which has really taken off this year. Second place went to the Finns, who pushed past two disappointed Russians shortly before the finish. Nevertheless, Alexander Bolshunov and Gleb Retivykh still had reason to cheer: the bronze medal.
Klaebo und Valnes siegen für Norwegen
Als erste Entscheidung stand am heutigen Wettkampftag in Oberstdorf die Entscheidung im Skilanglauf an. Bei den Damen siegte das starke schwedische Team mit Maja Dahlqvist und Jonna Sundling. Auf den zweiten Platz kämpften sich mit einer super Leistung die beiden Schweizerinnen Laurien Van der Graaff und Nadine Faehndrich, die die Schlussrunde übernahm, alles auf eine Karte setzte und Slovenien, die den dritten Rang belegten sowie Russland hinter sich ließ. Die Russinnen Natalia Nepryaeva und Yulia Stupak liefen zwar immer um eine Medaille mit, verpassten sie aber kurz vor Schluss dann doch noch, was eine große Enttäuschung hervor rief.
Bei den Herren gewann das Favoriten Team aus Norwegen. Erik Valnes und Johannes Hoesflot Klaebo setzten sich souverän an die Spitze und wurden Weltmeister. Für den jungen Erik Valnes war dies der erste richtig große Erfolg in seiner Karriere, die in diesem Jahr so richtig Fahrt aufgenommen hat. Platz zwei belegten die Finnen, die sich kurz vor dem Ziel noch an zwei enttäuschten Russen vorbei schoben. Trotzdem gab es für Alexander Bolshunov und Gleb Retivykh noch grund zu jubeln:  Die bronzene Medaille.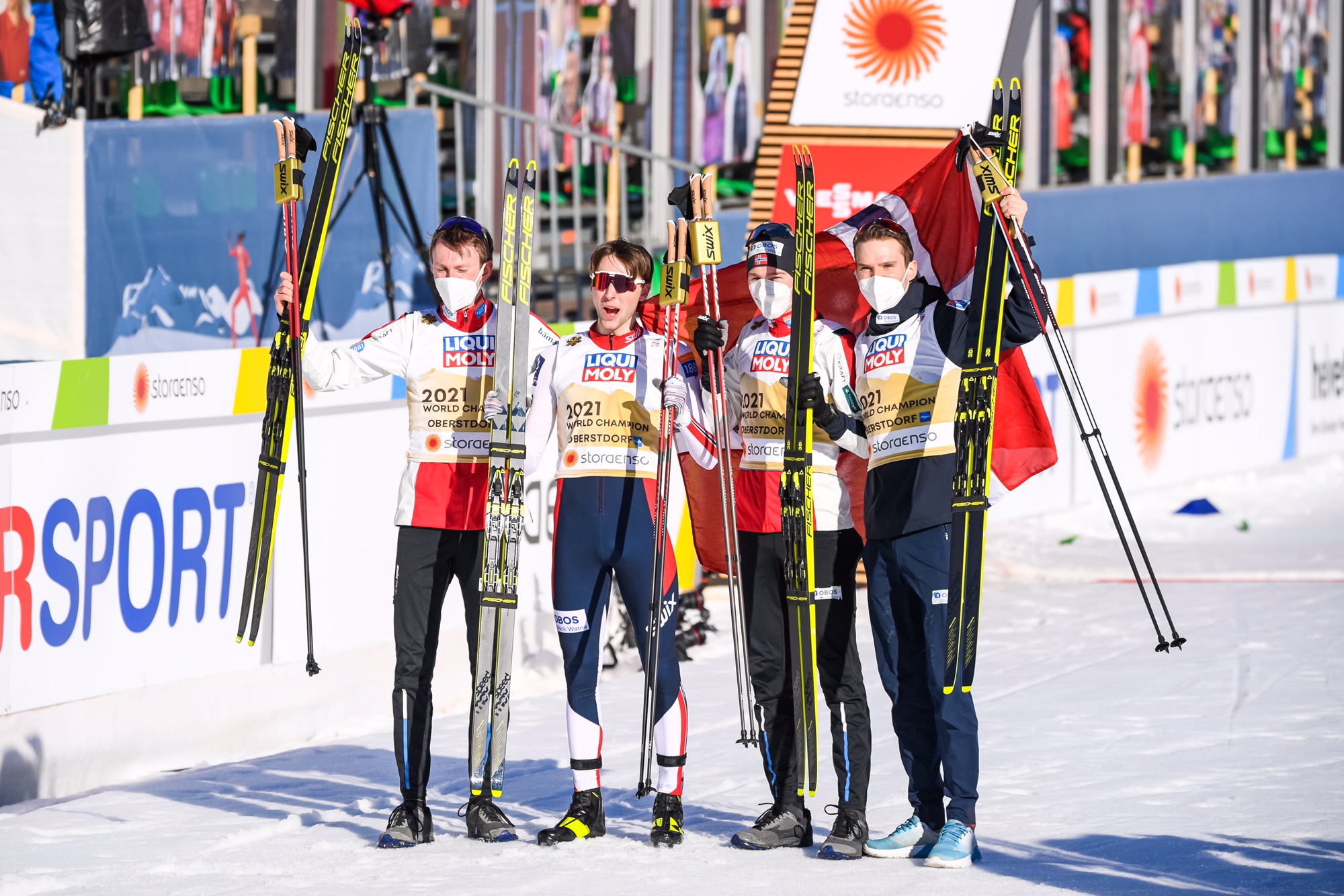 Norway defends the title in the Nordic combined team competition
In bright sunshine and spring-like temperatures Norway's Nordic Combined athletes celebrated a successful title defense in the team competition at the World Championships in Oberstdorf. After the jumping from the normal hill HS 106 still lying on the fourth place they could not really convince and had to start with a gap of 59.5 seconds into the 4 X 5 kilometer race. But the strong runners Espen Björnstad, Jörgen Graabak and Jens Luraas Oftebro gave final runner Jarl Magnus Riiber a 25-second advantage for the final lap, which he could extend to 42.7 seconds and secured the gold medal for Norway.
Silver went to the German quartet around Eric Frenzel, and thus the first medal for the Nordic combined athletes of the Nordic World Ski Championships.  Austria after the jumping still in the lead wins bronze. The Japanese team around the Watabe brothers finished fourth in the 12-nation field.
Norwegen verteidigt den Titel im Team Wettbewerb der Nordischen Kombination
Bei strahlendem Sonnenschein und frühlingshaften Temperaturen feierten Norwegens Nordisch Kombinierer eine erfolgreiche Titelverteidigung im Teamwettbewerb bei der WM in Oberstdorf. Nach dem Springen von der Normalschanze HS 106 noch auf dem vierten Platz liegend konnte man noch nicht so recht überzeugen und musste mit einem Rückstand von 59,5 Sekunden in das 4 X 5 Kilometer Rennen. Doch die starken Läufer Espen Björnstad, Jörgen Graabak und Jens Luraas Oftebro gaben Schlußläufer Jarl Magnus Riiber einen 25-Sekunden Vorsprung mit auf die Schlussrunde, die er noch auf 42,7 Sekunden ausbauen konnte und die Goldmedaille für Norwegen sicherte.
Silber gab es für das Deutsche Quartett um Eric Frenzel, und damit die erste Medaille der Kombinierer  der Nordischen Ski WM.  Österreich nach dem Springen noch in Führung gelegen gewinnt Bronze. Das japanische Team um die Watabe-Brüder belegte den vierten Rang im 12- Nationen Feld.
Ergebnisse NoKo-Team- Kombination WM Oberstdorf:
1. Norwegen,           43.57,7 Minuten
2. Deutschland        + 42,7 Sek.
3.Österreich             + 49,1 Sek.
Mit unserem Springen waren wir nicht so recht zufrieden, und hatten einen ziemlichen Rückstand aufzuholen.

Wir wussten aber, wenn wir alle in der Loipe unsere Stärken einbringen können müsste noch ein Medaille möglich sein. Jetzt konnten wir sogar unseren Titel verteidigen, und für mich schon das zweite Gold der WM"
Jarl Magnus Riiber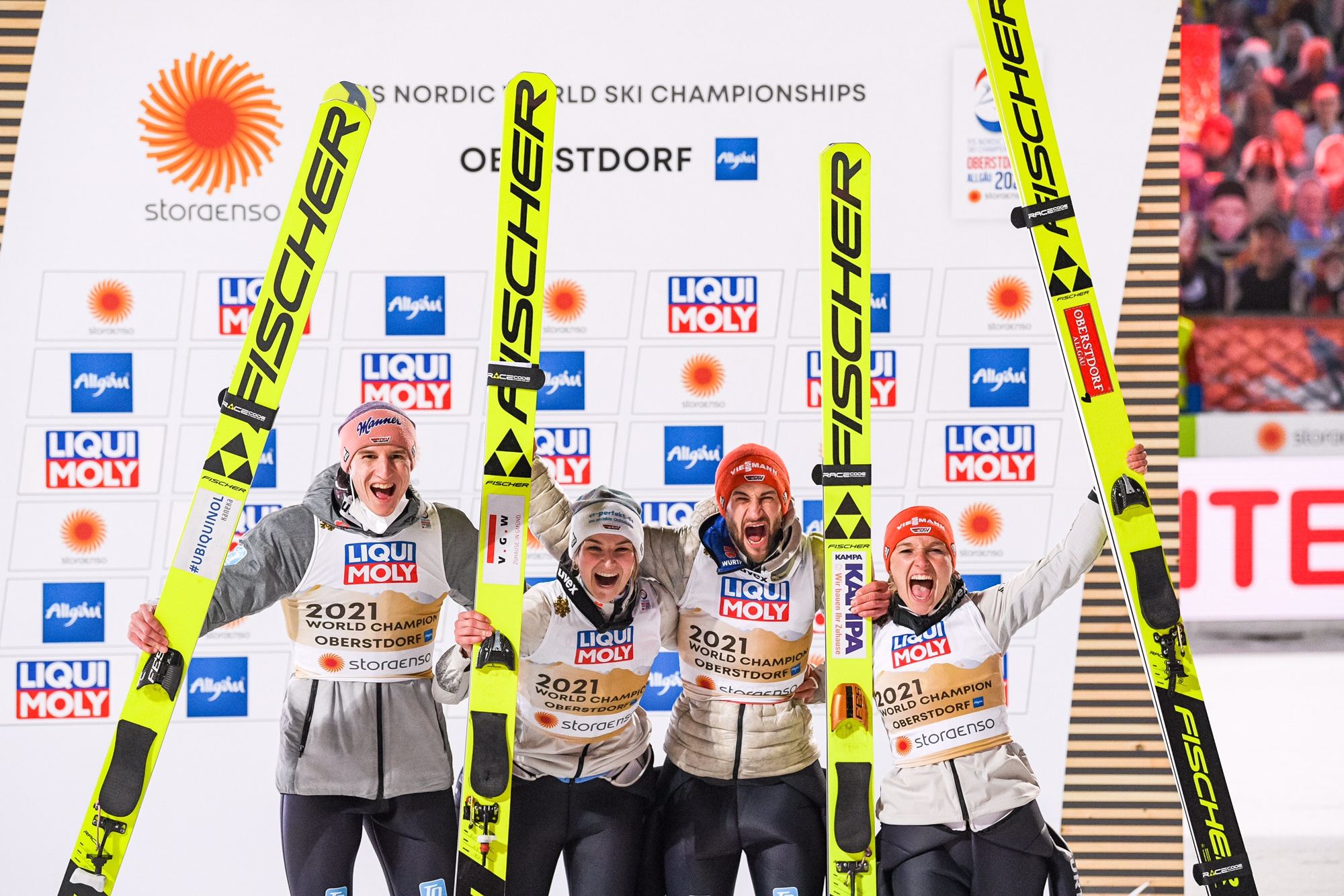 World Champion in Team Mixed Jumping is Germany
The final event in Oberstdorf today was the ski jumping men and women in the mixed team. Two women and two men each formed a team and conquered the hill in the Oberstdorf jumping stadium. With a great team performance the German team convinced all along the line and won the world championship title with Katharina Althaus, Anna Rupprecht, Markus Eisenbichler and final jumper Karl Geiger, who made the gold medal perfect. Second place went to the strong Norwegians around top jumper Havlor Granerud. Third place went to Team Austria. The co-favorites with the fish-baked World Champion Piotr Zyla and Dawid Kubacki finished in sixth place.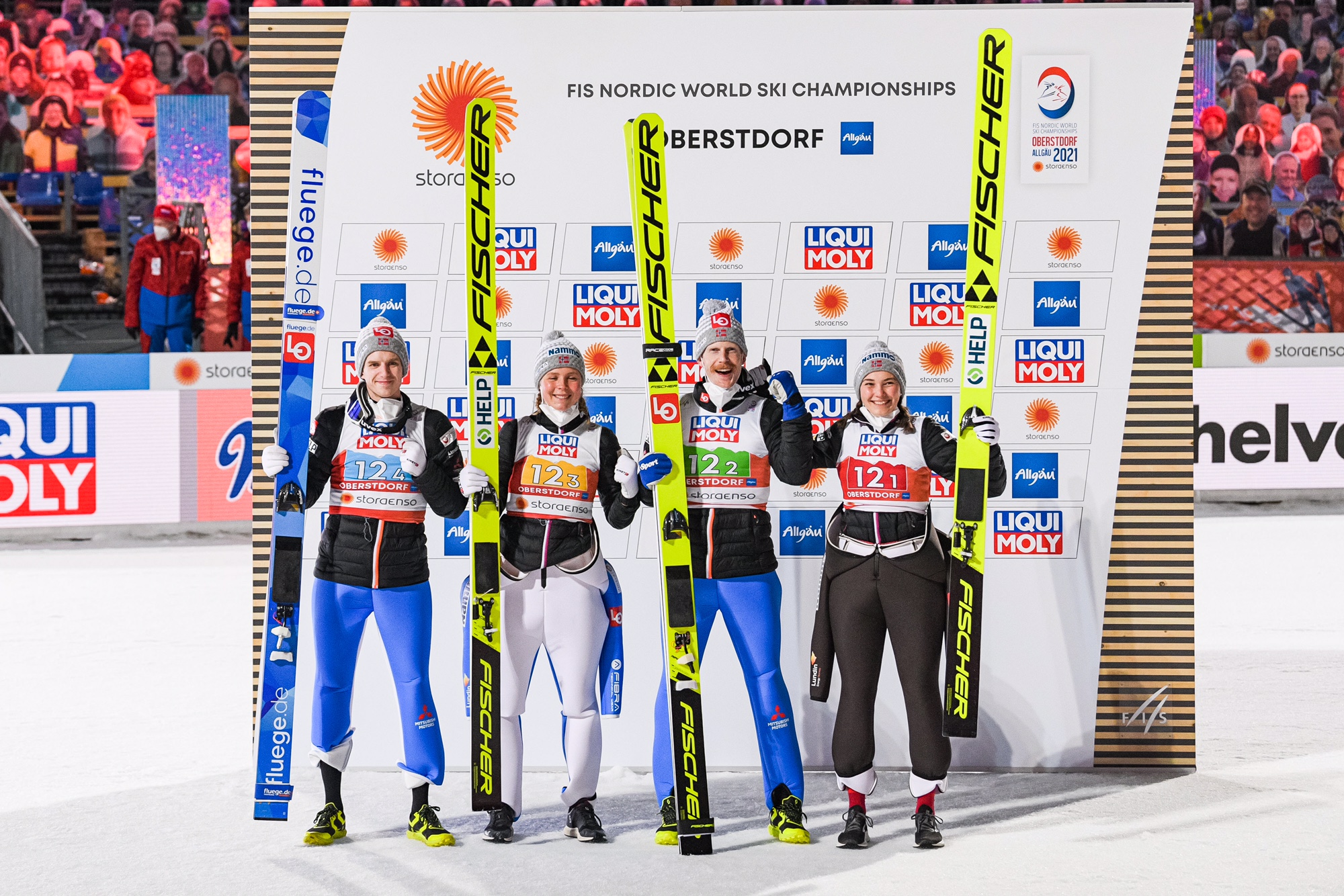 Weltmeister im Team Mixed Springen ist Deutschland
Den Abschluss machten in Oberstdorf heute die Skispringer Herren und Damen im gemischten Team. Je zwei Damen und zwei Herren bildeten ein Team und bezwungen die Schanze im Oberstdorfer Sprungstadion. Mit einer tollen Teamleistung überzeugte das deutsche Team auf ganzer Linie und gewann den Weltmeistertitel mit Katharina Althaus, Anna Rupprecht, Markus Eisenbichler und Schlussspringer Karl Geiger, der die Goldmedaille perfekt machte. Platz Zwei ging an die starken Norweger rund um Topspringer Havlor Granerud. Platz Drei erkämpfte sich Team Österreich. Die Mitfavoriten mit dem fischgebackenen Weltmeister Piotr Zyla und Dawid Kubacki landeten auf Platz Sechs.
Fotos: K.Voigt Fotografie