On the second day of the 52nd Biathlon World Championships in Pokljuka the first big individual decision was on the program with the 10 km men's sprint. At outside very cold temperatures ( -12 degrees), but a very grippy track all favorites let themselves be drawn into the first and second starting group.
Already after the prone shooting it seemed as if one of the big favorites for the World Cup title would say goodbye. Johannes Thingnes Boe made two shooting mistakes and had to run twice in the penalty loop in the Triglav Sports Center and resumed the race in 25th position. But those who had written him off until then had to be taught better. In his usual shape he came from behind and finally finished in 5th place, one tenth of a second behind his team mate Johannes Dale in fourth place. Quentin Fillon Mailett in sixth, Sturla Holm Laegreid in seventh and Tarjei Boe in ninth completed the TOP 10.
New sprint world champion was surprisingly Martin Posiluoma from Sweden. With a lead of 11.2 seconds over Simon Desthieux from France, who was able to secure the silver medal just ahead of his compatriot Emilien Jacquelin. Defending champion Alexander Loginov had to settle for 26th place. The performance of the DSV athletes was disappointing. Arnd Peiffer finished 36th with two shooting faults and a gap of 1:37.2 minutes.
| | | | | |
| --- | --- | --- | --- | --- |
| 1 | PONSILUOMA Martin | | 0+0 | 24:41.1 |
| 2 | DESTHIEUX Simon | | 0+0 | +11.2 |
| 3 | JACQUELIN Emilien | | 1+0 | +12.9 |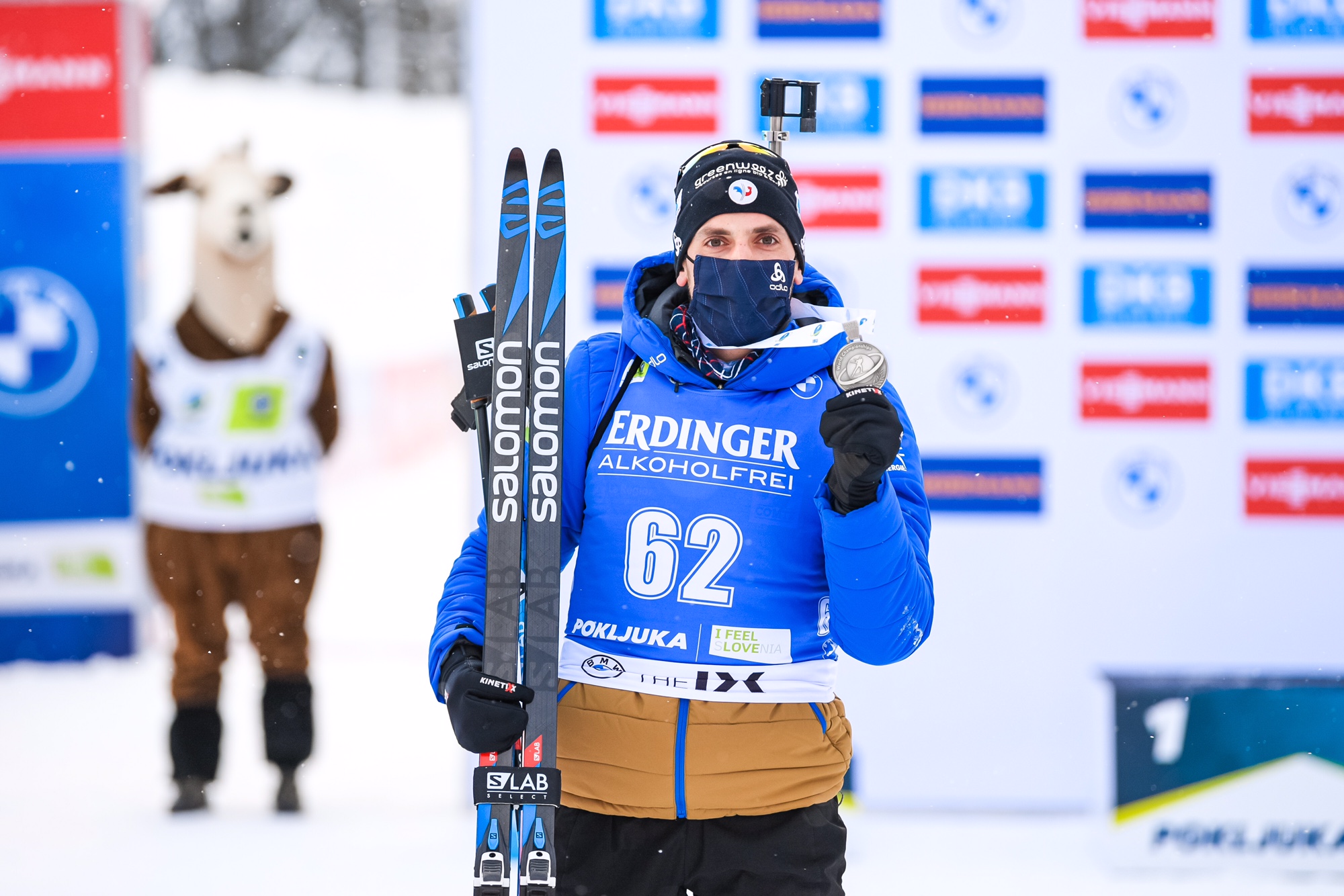 Martin Ponsiluoma neuer Sprintweltmeister
Am zweiten Tag der 52. Biathlon Weltmeisterschaften von Pokljuka stand gleich mit dem 10 km Herrensprint die erste große Einzelentscheidung auf dem Programm. Bei äußerlich sehr kalten Temperaturen ( -12 Grad), einer aber sehr griffigen Strecke ließen sich alle Favoriten in die erste und zweite Startgruppe auslosen.
Bereits nach dem Liegendschießen schien es als ob sich einer der großen Favoriten um den WM Titel verabschieden würde. Johannes Thingnes Boe leistete sich zwei Schießfehler, musste somit zweimal in die  Strafrunde im Triglav Sports Center und nahm als 25 das Rennen wieder auf. Doch wer ihn bis dahin abgeschrieben hatte, musste sich eines besseren belehren lassen. In gewohnter Manier räumte er das Feld von hinten auf und belegte schlußendlich Platz 5, eine Zehntelsekunde hinter seinem Teamkameraden Johannes Dale als Viertplatzierter. Quentin Fillon Mailett als sechster, Sturla Holm Laegreid auf Platz sieben und Tarjei Boe als Neunter komplettieren die TOP 10.
Neuer Sprintweltmeister wurde überraschend Martin Posiluoma aus Schweden, mit einem Vorsprung von 11,2 Sekunden auf Simon Desthieux aus Frankreich, der sich knapp die Silbermedaille vor seinem Landsmann Emilien Jacquelin sichern konnte. Titelverteidiger Alexander Loginov musste sich mit Rang 26 zufrieden geben.
Enttäuschend das Abschneiden der DSV- Athleten. Arnd Peiffer wurde mit zwei Schießfehler und einem Rückstand von 1.37,2 Minuten 36.
Ich wusste das meine Formkurve nach oben zeigt, dass ich hier bei der WM Silber hole bestätigt dies. Ich bin heute mit der Strecke gut zurecht und am Schießstand fehlerfrei durchgekommen.

Das verspricht einen sehr spannenden Verfolger zu geben."
Simon Desthieux
Mein schlechtes Liegendschießen hat mich heute eine Medaille gekostet. Danach habe nochmal alles gegeben, leider hat es nur noch zu Platz fünf gereicht. Jetzt muss ich mir die Medaille im Verfolger holen."
Johannes Thingnes Boe
Der vierte Platz ist immer undankbar, speziell bei einer WM, jetzt werde ich im Verfolger Vollgas geben."
Johannes Dale
Picture: K. Voigt Fotografie