This is what counts for gloves on roller skis and inline skates
Cross-country skiers and biathletes use roller skis and inline skates for summer training. The movement sequences are close to those on cross-country skis. It is clear that the athletes also use poles. Therefore, special gloves are also among the equipment they need. The requirements for summer gloves differ from those for winter gloves. The experts at KinetiXx, the glove brand that equips by far the most successful top athletes of many national teams at the Nordic World Cup, tell us what is important.
First of all, the gloves for roller skiing and inline skating must fit perfectly on the fingers and hand, they should also fit nicely on the wrist. There should be no wrinkles in the grip area and under the pole loops. Slipping them on should be easy.
The gloves must be highly breathable, and ventilation zones are also important in order to be prepared for the often high temperatures and corresponding perspiration. KinetiXx therefore uses air-permeable mesh material on the outer hand and thin, particularly breathable fabrics on the palm. Another special feature: The Xx Sun+ fabric lets tanning UV rays through the glove.
The palm has no padding as you know it, for example, from cycling gloves. KinetiXx relies here rather on silicone grip. This means a secure grip on the pole for optimal power transfer from the hands to the pole. An important detail: A reinforcement is incorporated in the crook of the thumb. This is where high pressure is exerted on the hand and the material when gripping the pole. The reinforcement protects the hand and increases the life of the glove.
Good tactility is important - not only for biathletes when handling the weapon, but also for such "banal" activities as putting on the roller skis or slipping into the pole loops. Recommended for roller skiing and inline skating are long-finger gloves, which have a plus in terms of protective function compared to short-finger models. One must not forget: Roller skis have no brakes. It can easily come to a fall on hard asphalt. The same applies to inline skating. KinetiXx offers two high-quality glove models that meet the demands of athletes in the endurance sports of roller skiing and inline skating: Sean and Sebo.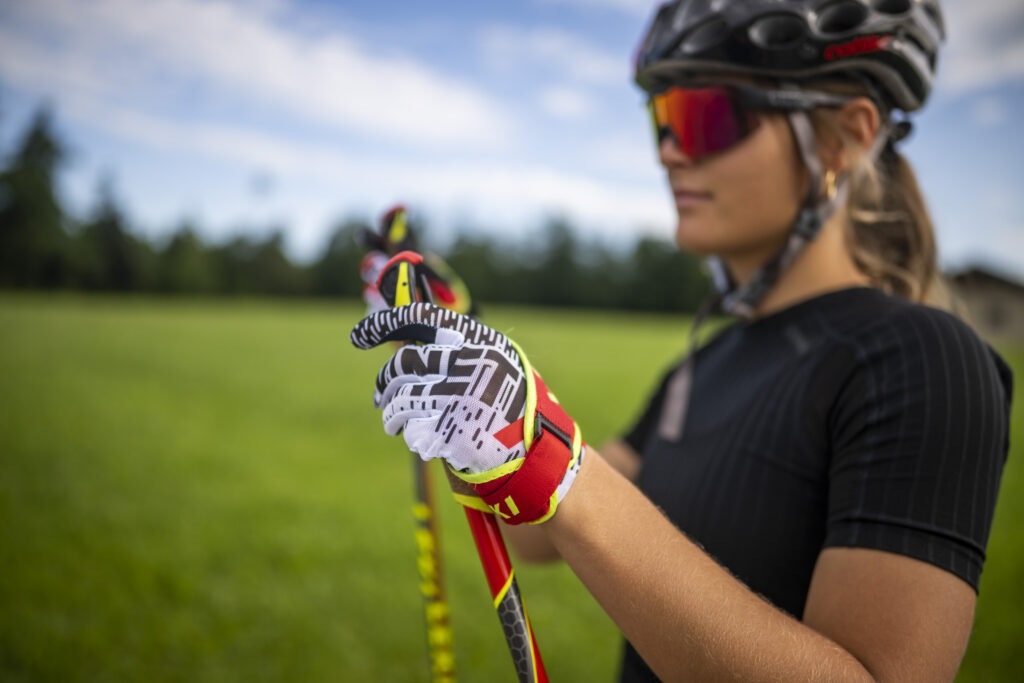 Roller ski glove SEAN
The performance glove Sean from KinetiXx is the perfect glove for roller skiing and convinces at the same time as a cycling glove. The extremely air-permeable Xx Sun+ backhand fabric of the thin summer glove provides a comfortable hand climate and allows the UV rays through the fabric, so that the hand can be tanned by the sun. This makes white roller-skiing and cycling hands a thing of the past in summer. At the same time, the glove's long-finger construction protects against superficial skin injuries in the event of possible falls during fast-paced rides. In addition, it scores with pleasant wearing comfort and super grip. Because the palm is made of soft and durable Amara synthetic leather. The glove experts at KinetiXx have dispensed with cushioning padding to ensure plenty of tactility. For reliable grip on the pole and handlebars, a special silicone print is used on the palm. The longer cut ensures a snug fit around the wrist. Who wants to operate the cell phone or smartwatch on the go, is happy about the touchscreen function of the SEAN, you do not have to take off the glove for this. Click here for the glove: Sean Rollski-Handschuh KinetiXx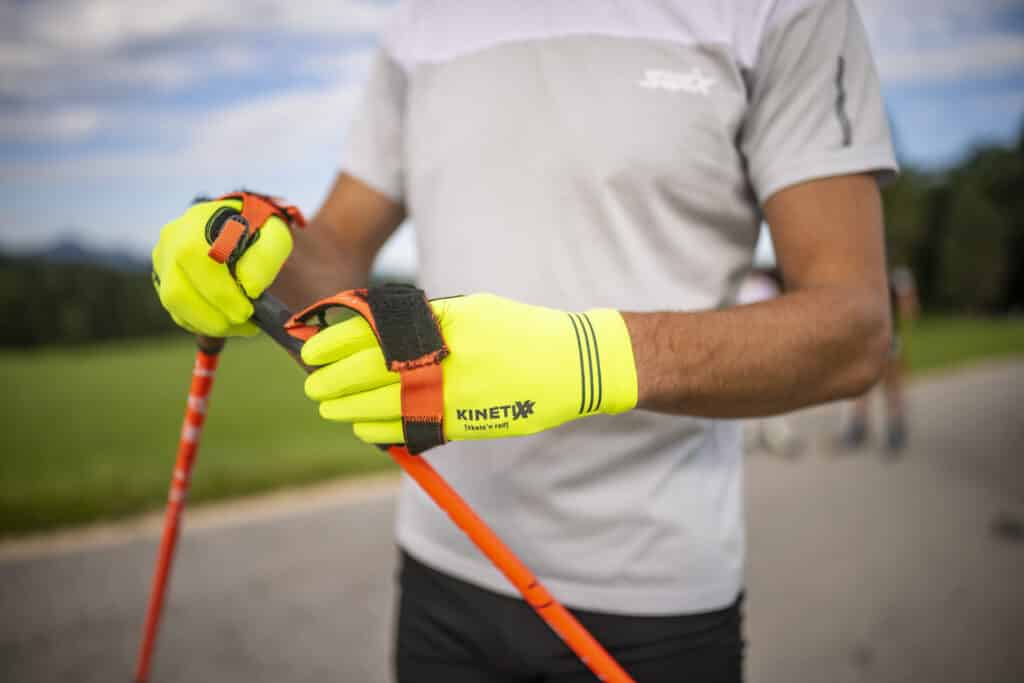 Roller ski glove SEBO
Equally suitable for athletic cyclists and roller skiers:inside is the super thin and elastic summer glove Sebo. Optimally suited for extensive training sessions in warm temperatures. In the palm and on the fingers is a generous silicone print, which provides a good grip on the stick. The glove material is very thin and highly breathable, specially designed for sweaty training rounds in summer - or as an under glove in winter. In the crook of the finger between the thumb and index finger is a reinforcement, so that the stick lies even better in the hand and this is protected from chafing. The SEBO proves to be a sporty all-rounder for cycling, roller skiing and Nordic sports athletes. Click here for the glove: Sebo Rollski-Handschuh KinetiXx
Fotos: K.Voigt Fotografie