The second week of the Nordic World Championships in Oberstdorf continues to be dominated by Norwegian athletes. At least one Norwegian athlete stood on the top of the podium in today's competitions in men's cross-country skiing and women's ski jumping.
Norwegian triple success in cross-country skiing over 15 km
In the fight for gold, much spoke in favor of a duel between Russia and Norway before the 15 km men's race in the free technique. At the end of the race there was a Norwegian triple success led by the winner Hans Christer Holund, who could win his second gold medal here at the World Championships in Oberstdorf. In this race, the Norwegians once again proved their exceptional class. His two compatriots Simen Krüger and Harald Oestberg Amundsen, shared silver and bronze with second and third place. The great co-favorite Alexander Bolshunov, who could also determine the race for a long time, suffered a setback in the final phase, lost more and more ground and ended up in fourth place with a gap of 43.7 seconds. The German cross-country skiers, so far without a medal, were also unable to fight in front in the 15 km race. The best German was Jonas Dobler in 23rd place, just ahead of Friedrich Moch (24th). With Florian Notz in 26th place and Lucas Bögl in 28th place, the other German athletes also finished the race among the top 30.
Results 15 km men free technique, World Championships Oberstdorf:
1st Hans Christer Holund, NOR 33.48,7 min.
2. Simewn Krüger, NOR + 20,20 sec.
3. Harald Oestberg Amundsen, NOR + 35,6 sec.
Before the race we were talking about the duel with Russia, now we occupy the podium places and other places in the top 10. This was a great day for all of us today.
Harald Oestberg Amundsen
Lundby wins historic gold
Maren Lundby had been fighting at the front for a women's World Championship decision from the large hill, now the sympathetic Norwegian can decorate herself with the gold medal at the first medal ceremony from the large hill after a difficult season. Maren Lundby had already taken the lead with a jump of 128 meters and a strong performance in the first round, and she was also unbeatable with her second jump of 130.5 meters. With a lead of 8.7 points, she was able to clearly distance herself from her competitors in the end. The silver medal went to the strong Japanese Sara Takanashi, who could be satisfied with her performance in view of two very good jumps. Nika Kriznar made sure that the Slovenians can cheer again with bronze.
Norwegian Maren Lundby made history with her two gold medals. After fighting for years for the inclusion of the competition, the Norwegian could now give herself the biggest present at Schattenberg in Oberstdorf. Her teammate Silje Opseth was able to secure fifth place in this jumping event. The German Juliane Seyfarth could reach tenth place with her two jumps. For the German ski jumpers the competitions so far did not go as expected – especially bitter now the World Championship exit of Carina Vogt, who already could not participate in the jumping on the large hill.
Results individual competition women HS 137 / large hill:
1st Maren Lundby, NOR 296.6 points
2nd Sara Takanashi, JPN -8.7 points
3rd Nika Kriznar, SLO – 9,5 points
It was not an easy day for me today, especially the news of my teammate* had brought a lot of hectic and stress to our team. But I tried to concentrate on my job and my jumps and I am just happy that everything turned out well. The fact that I made sporting history today is only of marginal interest to me. I will enjoy this evening and just be happy about my gold medal.
Maren Lundby
*positive Corona test from Halvor Egner Granerud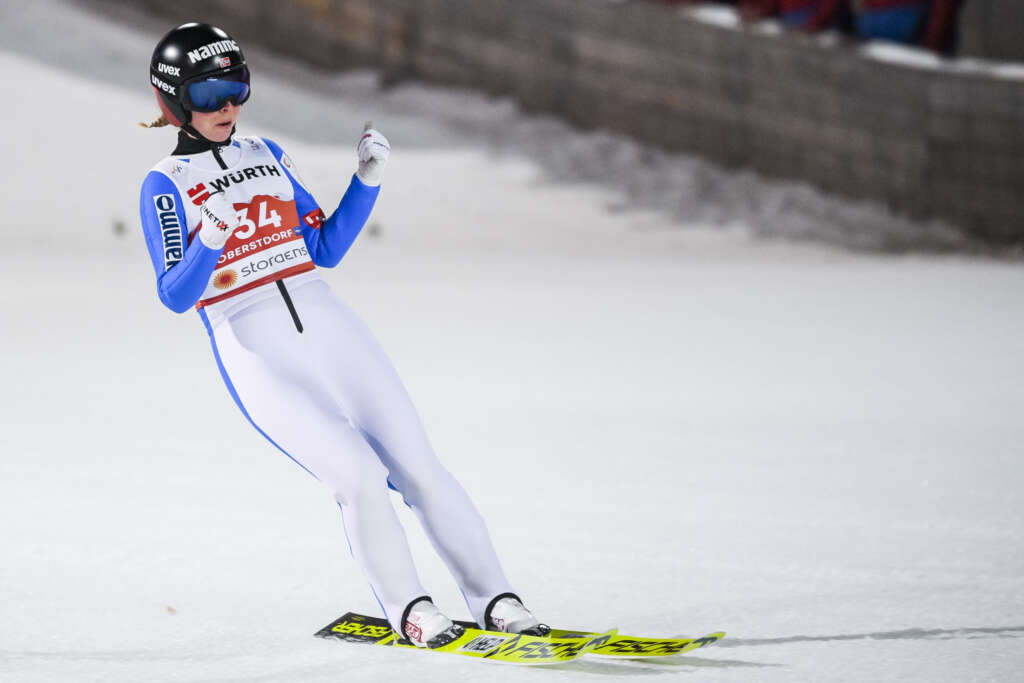 Auch in der zweiten Woche der Nordic WM in Oberstdorf bleiben die norwegischen Athleten das Maß der Dinge. Bei den Wettkämpfen am heutigen Dienstag im Langlauf der Herren und im Skispringen der Frauen stand mindestens ein norwegischer Athlet ganz oben auf dem Podest.
Norwegischer Dreifach-Erfolg im Langlauf über 15 km
Im Kampf um Gold sprach vor dem 15 km Herren Rennen in der freien Technik vieles für ein Duell Russland gegen Norwegen. Zum Ende des Rennens gab es einen norwegischen Dreifach-Erfolg angeführt mit dem Sieger Hans Christer Holund, der seine zweite Goldmedaille hier bei der WM in Oberstdorf gewinnen konnte. Bei diesem Rennen haben die Norweger ihre Ausnahmeklasse erneut unter Beweis gestellt. Seine beiden Landsleute Simen Krüger und Harald Oestberg Amundsen, teilten sich mit Platz zwei und drei Silber und Bronze. Der große Mitfavorit Alexander Bolshunov, der auch lange das Rennen bestimmen konnte, erlitt in der Schlussphase einen Einbruch, verlor immer mehr an Boden und landete mit einem Rückstand 43,7 Sekunden auf Platz vier. Die deutschen Langläufer, bisher noch ohne eine Medaille, konnten auch bei dem 15 km Rennen nicht vorne mit kämpfen. Bester Deutscher war Jonas Dobler auf Rang 23, direkt vor Friedrich Moch (24.). Mit Florian Notz auf Platz 26 und Lucas Bögl auf Rang 28 beendeten auch die anderen deutschen Athleten das Rennen unter den Top 30.
Ergebnisse 15 Km Herren Freie Technik, WM Oberstdorf:
1. Hans Christer Holund, NOR 33.48,7 Min.
2. Simewn Krüger, NOR + 20,20 Sek.
3. Harald Oestberg Amundsen, NOR + 35,6 Sek.
Vor dem Rennen sprach man über das Duell mit Russland, nun belegen wir die Podiumsplätze und weitere Plätze unter den Top 10. Das war heute ein großer Tag für uns alle.
Harald Oestberg Amundsen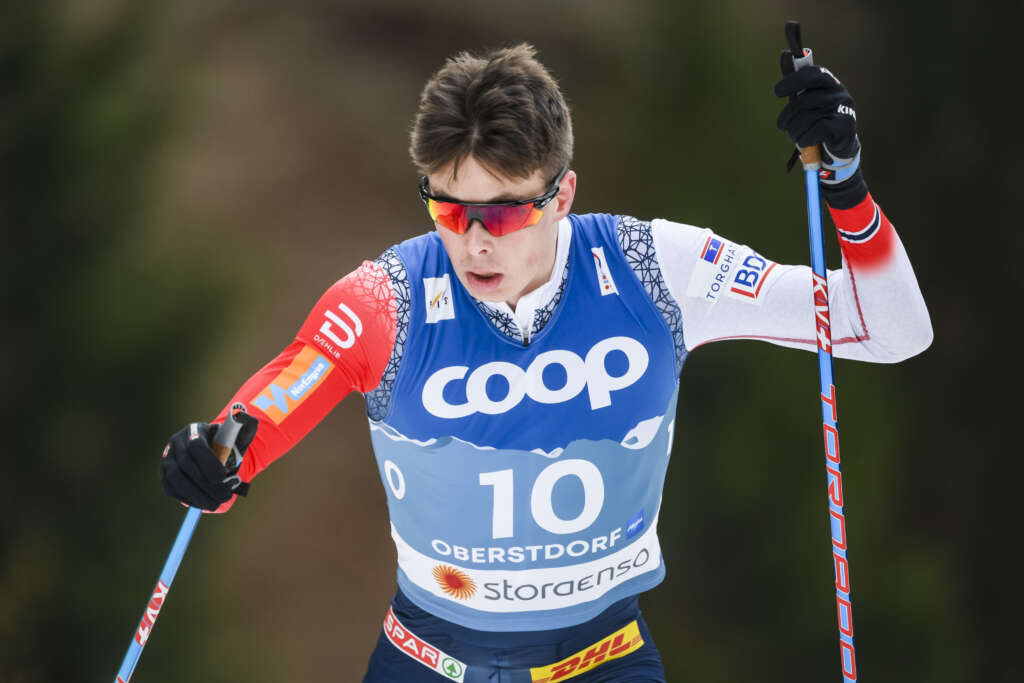 Lundby holt historisches Gold von der Großschanze
Maren Lundby hatte an vorderer Front für eine WM-Entscheidung der Frauen von der Großschanze gekämpft, nun darf sich die sympathische Norwegerin nach einer schweren Saison bei der ersten Medaillenvergabe von der Großschanze mit der Goldmedaille schmücken. Maren Lundby hatte sich schon mit einem Sprung von 128 Meter und einer starken Vorstellung  im ersten Durchgang an die Spitze gesetzt, und war auch mit Ihrem zweiten Sprung von 130,5 Meter nicht mehr zu schlagen. Mit 8,7 Punkten Vorsprung hatte sie sich am Ende von ihrer Konkurrenz deutlich absetzen können. Die Silbermedaille ging an die starke Japanerin Sara Takanashi, die angesichts von zwei sehr guten Sprüngen sich zufrieden mit ihrer Leistung zeigen konnte. Nika Kriznar sorgte mit Bronze dafür, dass die Sloweninnen wieder jubeln dürfen.
Die Norwegerin Maren Lundby schreibt mit ihren beiden Goldsprüngen Geschichte. Nachdem die Norwegerin über Jahre hinweg für die Aufnahme des Wettbewerbs gekämpft hatte, konnte sie sich am Schattenberg in Oberstdorf nun selbst das größte Geschenk machen. Ihre Teamkollegin Silje Opseth konnte sich den fünften Platz bei diesem Springen sichern. Die Deutsche Juliane Seyfarth konnte mit ihren beiden Sprüngen Platz zehn erreichen. Für die deutschen Skispringerinnen liefen die bisherigen Wettkämpfe nicht wie erwartet – besonders bitter nun auch das WM-Aus von Carina Vogt, die bereits bei dem Springen auf der Großschanze nicht mehr teilnehmen konnte.
Ergebnisse Einzelwettbewerb Damen HS 137 / Großschanze:
1. Maren Lundby, NOR      296,6 Punkte
2. Sara Takanashi,JPN      -8,7 Punkte
3. Nika Kriznar, SLO          – 9,5 Punkte
Es war heute kein einfacher Tag für mich, besonders die Nachricht von meinem Teamkollegen* hatte unserem Team sehr viel Hektik und Stress beschert. Ich habe mich jedoch versucht voll auf meinen Job und meine Sprünge zu konzentrieren, und bin einfach nur happy, das alles gut ausgegangen ist. Das ich heute sportliche Geschichte geschrieben habe, interessiert mich nur am Rande. Diesen Abend werde ich jetzt voll genießen und mich einfach nur über meine Goldmedaille freuen.
Maren Lundby
*positiver Corona Test von Halvor Egner Granerud
Fotos: K.Voigt Fotografie