Johaug takes her first World Championship gold in Oberstdorf
First appearance, first gold. Therese Johaug was unbeatable in the 15 km skiathlon in Oberstdorf. The defending champion skied the two times 7.5 kilometers in classic and free technique in 38.35.5 minutes and clearly relegated the Swedes Frida Karlsson (+30.0 seconds) and Ebba Andersson (+30.2 seconds) to the other podium places. As expected, Johaug made speed from the beginning and was able to gain a clear gap to her competitors after only a few kilometers. She was only followed by the two Swedes. Shortly before the halfway point of the classic distance Johaug even fell, but even this stumble could not stop her. On the skating course she really turned up, distanced the two Swedes and skied unchallenged to World Championship gold. It was exciting in the fight for silver, which Karlsson won in the final sprint against her teammate. Best German was Pia Fink on rank 19, Katharina Hennig on rank 29 had unfortunately totally lost her medal dreams due to the waxing of her skis.
Results 15 km Skiathlon Women World Championships, Oberstdorf:
1st Therese Johaug, NOR 38.35,5 min.
2. Frida Karlsson, SWE + 30,0 sec.
3. Ebba Andersson, SWE + 30,2 sec.
It was a good race from me today, which I planned tactically. I felt very good from the beginning and I am happy to get gold in my first race and to defend my title successfully.
Therese Johaug
Johaug holt ihr erstes WM Gold in Oberstdorf
Erster Auftritt, erstes Gold. Im 15 km Skiathlon von Oberstdorf war Therese Johaug nicht zu schlagen. Die Titelverteidigerin lief die zwei mal 7,5 Kilometer in klassischer und freier Technik in 38.35.5 Minuten und verwies die Schwedinnen Frida Karlsson (+ 30,0 Sekunden) und Ebba Andersson (+30,2 Sekunden) deutlich auf die anderen Podestplätze. Johaug machte wie erwartet von Beginn an Tempo, und konnte sich bereits nach wenigen Kilometern einen deutlichen Abstand zu ihrer Konkurrenz erkämpfen. Nur die beiden Schwedinnen konnten ihr folgen. Kurz vor Halbzeit der Klassikdistanz stürzte Johaug sogar, aber selbst dieser Strauchler konnte sie nicht aufhalten. Auf der Skating-Strecke drehte sie dann aber richtig auf, distanzierte die beiden Schwedinnen und lief unbedrängt zu WM-Gold. Spannend wurde es dann noch im Kampf um Silber, den Karlsson knapp im Zielsprint gegen ihre Teamkollegin gewann. Beste Deutsche war Pia Fink auf Platz 19, Katharina Hennig auf Rang 29 hatte ihre Medaillenträume leider total verwachst.
Ergebnisse 15 km Skiathlon Damen WM, Oberstdorf:
1. Therese Johaug, NOR    38.35,5 Min.
2. Frida Karlsson, SWE       + 30,0 Sek.
3. Ebba Andersson, SWE   + 30,2 Sek.
Es war heute ein gutes Rennen von mir, das ich mir taktisch eingeteilt habe. Ich habe mich von Beginn an sehr gut gefühlt und freue mich in meinem ersten Rennen gleich Gold zu holen und meinen Titel erfolgreich verteidigen zu können.
Therese Johaug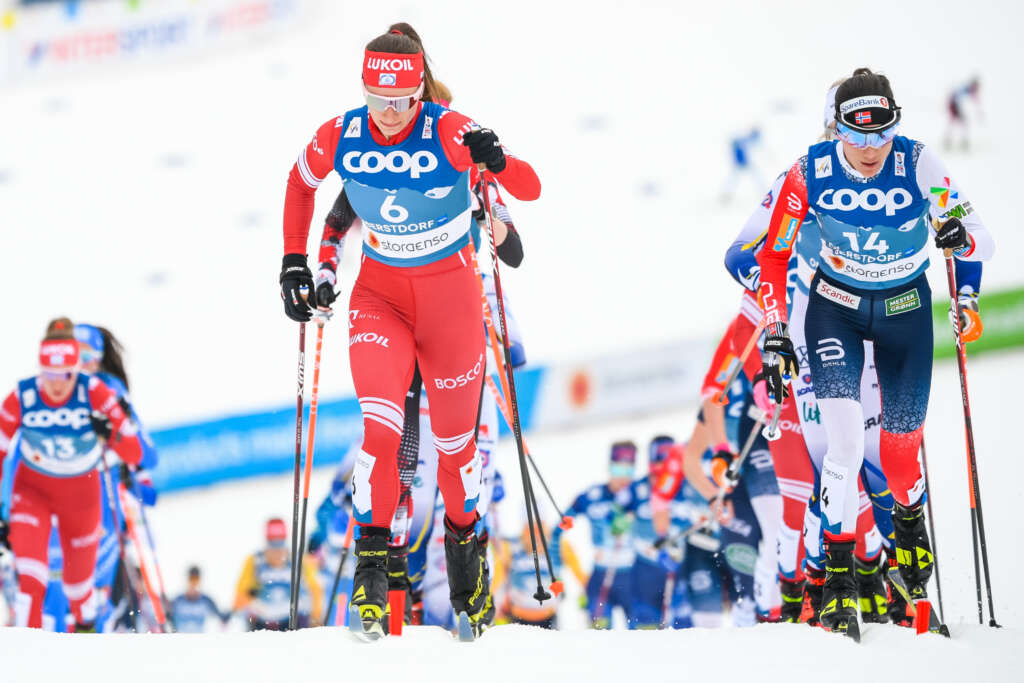 Bolshunov wins gold
Can Alexander Bolshunov keep the great Norwegian superiority in check and stand up to it, was the question here in the Ried Stadium of Oberstdorf in the men's 30 km skiathlon. The answer: Yes, he could – and with impressive strength he deservedly took the world championship title. Right from the start, he set the pace at the front for the entire race, tightened the pace again and again and still had enough strength to prevail against the strong competition from Norway. After crossing the finish line he shouted out all his joy about winning the gold medal. Silver went to Simen Hegstad Krüger from Norway ahead of his teammate Hans Krister Holund. The fourth, fifth and sixth places also went to Norway through Johannes Hoesflot Klaebo (4th), Emil Iversen (5th) and the defending champion Sjur Roethe (6th). Best German was Lucas Bögel on rank 29, Jonas Dobler finished on rank 36.
Results 30 km skiathlon men World Championships, Oberstdorf:
1st Alexander Bolshunov, RSF 1.11.33,9 hrs.
2nd Simen Hegstad Krüger, NOR + 1.10 sec.
3. Hans Krister Holund, NOR + 1.70 sec.
The race took a lot of energy because I always had to set the pace from the front. In between I had to accelerate a bit more to control the field, because I knew how strong the guys from Norway are and how difficult it will be to win here. A nice day for me today.
Alexander Bolshunov
Bolshunov holt Gold
Kann Alexander Bolshunov die große norwegische Übermacht in Schacht halten und Paroli bieten, war hier die Frage im Ried Stadion von Oberstdorf beim 30 km Skiathlon der Herren. Die Antwort: Ja, er konnte – und holte sich mit beeindruckender Stärke verdient den Weltmeistertitel. Von Beginn an hat er das komplette Rennen über an der Spitze die Pace gemacht, verschärfte immer wieder das Tempo und hatte noch genügend Kraft sich gegen die starke Konkurrenz aus Norwegen durchzusetzen. Nachdem er die Ziellinie überquert hatte schrie er all seine Freude über den Gewinn der Goldmedaille heraus. Silber holte sich der Norweger Simen Hegstad Krüger vor seinem Teamkollegen Hans Krister Holund. Auch die Plätze vier, fünf und sechs gehen durch Johannes Hoesflot Klaebo (4.), Emil Iversen (5.) und den Titelverteidiger Sjur Roethe (6.) nach Norwegen. Bester Deutscher wurde Lucas Bögel auf Rang 29, Jonas Dobler kam auf Platz 36 ins Ziel.
Ergebnisse 30 km Skiathlon Herren WM, Oberstdorf:
1. Alexander Bolshunov, RSF        1.11.33,9 Stunden
2. Simen Hegstad Krüger, NOR    + 1.10 Sek.
3. Hans Krister Holund, NOR        + 1.70 Sek.
Das Rennen hat brutal Kraft gekostet, da ich von vorne immer das Tempo machen musste. Zwischendurch musste ich etwas mehr Gas geben, um das Feld zu kontrollieren, da ich wusste wie stark die Jungs aus Norwegen sind und wie schwierig ein Sieg hier wird. Ein schöner Tag heute für mich.
Alexander Bolshunov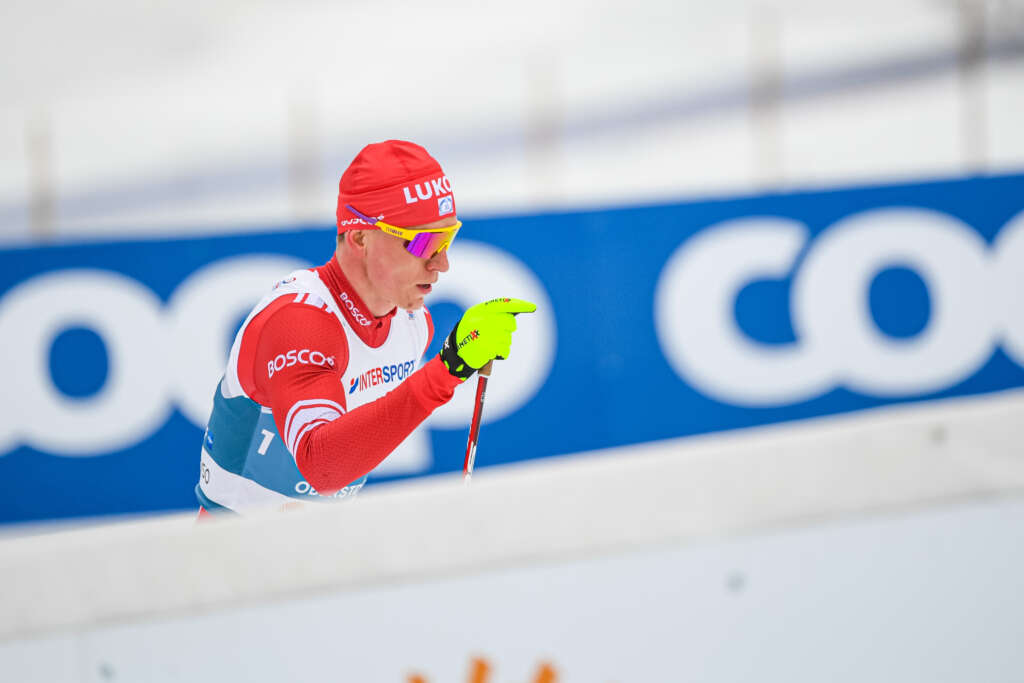 Historic Nordic combined premiere goes to Norway
For years the Nordic Combined women have fought for this day, in Germany's Allgäu region it comes to the long-awaited first World Championship competition and were dominated and cheered by the Norwegians with a triple success. The successful Norwegian trio around the first world champion Gyda Westvold Hansen in history celebrated exuberantly with the national flag their three medals. For the new World Champion it was another great success after winning the Junior World Championship a week ago. Behind Westvold Hansen, the two Norwegian sisters Mari Leinan Lund and Marte Leinan Lund secured the silver and bronze medals. A bit disappointing was the performance of the DSV athletes, who unfortunately had no chance to win medals at their home World Championships. Nevertheless, 16-year-old Cindy Haasch finished in a good eleventh place after a strong 5 km run. Svenja Würth (17th), Jenny Nowak (18th) and Maria Gerbot (19th) could all finish in the top 20.
Results Nordic combined 106 HS / 5 km women:
1st Gyda Westvold Hansen, NOR 13.10,4 min.
2nd Mari Leinan Lund, NOR + 13.8 sec.
3rd Marte Leinan Lund, NOR + 28,8 sec.
Today was a premiere for us at a world championship, that I would win gold right away is an absolute dream. I was already happy to have won gold in the juniors, but now to write history here… I can't believe it yet.
Gyda Westvold Hansen
Geschichtsträchtige Nordische Kombinationspremiere geht an Norwegen
Jahrelang haben die Kombiniererinnen für diesen Tag gekämpft, im Allgäu kommt es zum ersehnten ersten WM-Wettkampf und wurden mit einem Dreifach-Erfolg von den Norwegerinnen dominiert und bejubelt. Das erfolgreiche Norwegische Trio um die erste Weltmeisterin Gyda Westvold Hansen der Geschichte feierte ausgelassen mit der Landesfahne ihre drei Medaillen. Für die neue Weltmeisterin war es nach dem Gewinn der Junioren-Weltmeisterschaft vor einer Woche ein weiterer großer Erfolg. Hinter Westvold Hansen sicherten sich die beiden norwegischen Schwestern Mari Leinan Lund und Marte Leinan Lund die Silber-und Bronzemedaille. Etwas enttäuschend das Auftreten der DSV Athletinnen, die leider chancenlos bei der Heim-WM um Medaillen kämpften. Die 16 Jahre junge Cindy Haasch belegte nach einem starken 5 km Lauf dennoch einen guten elften Platz. Svenja Würth (17.), Jenny Nowak (18.) und Maria Gerbot (19.) konnten sich immerhin alle in den Top 20 platzieren.
Ergebnisse Nordische Kombination 106 HS / 5 km Damen:
1. Gyda Westvold Hansen, NOR   13.10,4 Minuten
2. Mari Leinan Lund, NOR            + 13,8 Sek.
3. Marte Leinan Lund, NOR          + 28,8 Sek.
Das war heute ein Premiere für uns bei einer WM, das ich gleich Gold holen würde ist ein absoluter Traum. Ich war schon glücklich bei den Junioren Gold gewonnen zu haben, aber jetzt hier Geschichte zu schreiben… ich kann es noch gar nicht fassen.
Gyda Westvold Hansen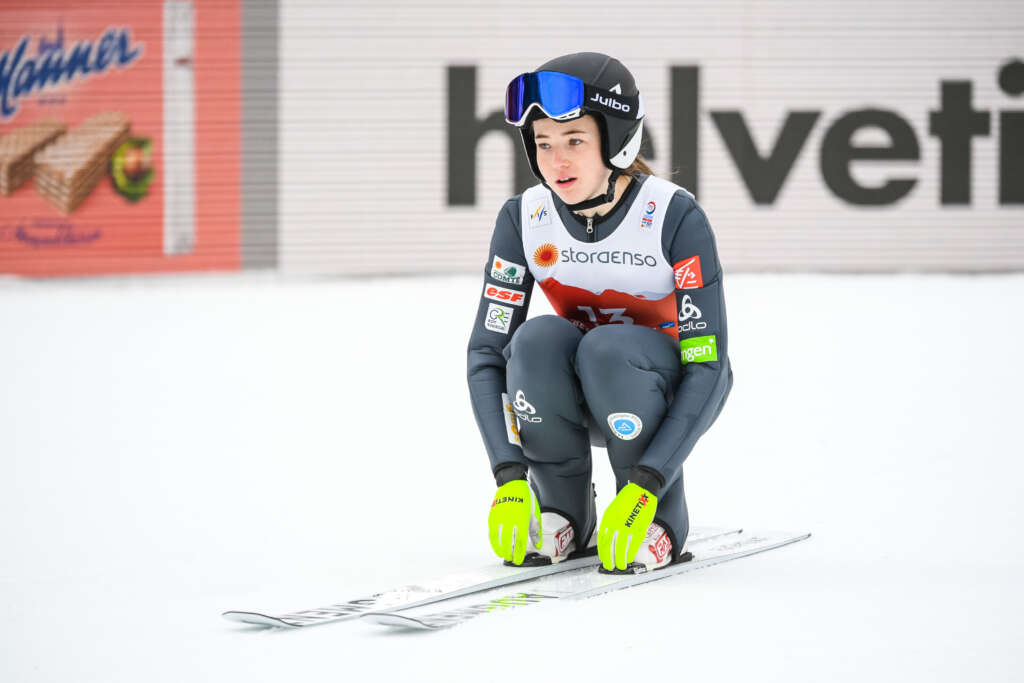 Piotr Zyla wins the gold medal
A small surprise was provided by 34-year-old Pole Piotr Zyla, who won gold in the normal hill jumping. The new world champion was able to beat his competitors with two very good jumps. Silver went to the German and Oberstdorfer Karl Geiger, on his home hill he also managed to make two good jumps – which was enough on this World Championships day to be at the top. Third place went to the Slovenian Anze Lanisek. Both Markus Eisenbichler and the big favorite Halvor Egner Granerud showed a weak first jump and could not compete for the medals. Granerud was just in 16th place after the first jump, but he was able to fight his way up to fourth place with a strong second jump. For Markus Eisenbichler the second round was not so successful, he finished the competition only in 17th place. Dawid Kubacki from Poland in fifth place, Robert Johansson (6th) and Daniel Andre Tande (9th, both NOR) showed again the strong team performance of Poland and Norway. A strong team performance is much needed tomorrow, Sunday, when the mixed team will fight for the medals.
Results Individual Ski Jumping Men:
1. Piotr Zyla, POL  268,8 Points
2. Karl Geiger, GER  265,2 Points
3. Anze Lanisek, SLO  261,5 Points
Piotr Zyla gewinnt Gold auf der Normalschanze
Für eine kleine Überraschung sorgte der 34-jährige Pole Piotr Zyla, der beim Springen von der Normalschanze Gold gewinnen konnte. Der neue Weltmeister konnte sich mit zwei sehr guten Sprüngen gegen seine Konkurrenz durchsetzen. Silber ging an den Deutschen und Oberstdorfer Karl Geiger, auf seiner Heimschanze gelangen auch ihm zwei gute Sprünge – was an diesem WM-Tag ausreichte um ganz oben mitzuspringen. Dritter wurde der Slowene Anze Lanisek. Sowohl Markus Eisenbichler als auch der große Favorit Halvor Egner Granerud zeigten einen schwachen ersten Sprung und konnten nicht mehr um die Medaillenränge mit springen. Granerud lag nach dem ersten Springen gerade einmal auf Rang 16, konnte sich durch einen starken zweiten Sprung noch auf Platz vier nach vorne kämpfen. Für Markus Eisenbichler war der zweite Durchgang nicht ganz so erfolgreich, er beendete den Wettkampf nur auf Rang 17. Dawid Kubacki aus Polen auf Platz fünf, Robert Johansson (6.) und Daniel Andre Tande (9., beide NOR) zeigten erneut die starke Mannschaftsleistung von Polen und Norwegen. Eine starke Teamleistung ist am morgigen Sonntag gefragt, wenn im Mixed Team um die Medaillen gekämpft wird.
Ergebnisse Skispringen Herren:
1. Piotr Zyla, POL  268,8 Punkte
2. Karl Geiger, DE  265,2 Punkte
3. Anze Lanisek, SLO  261,5 Punkte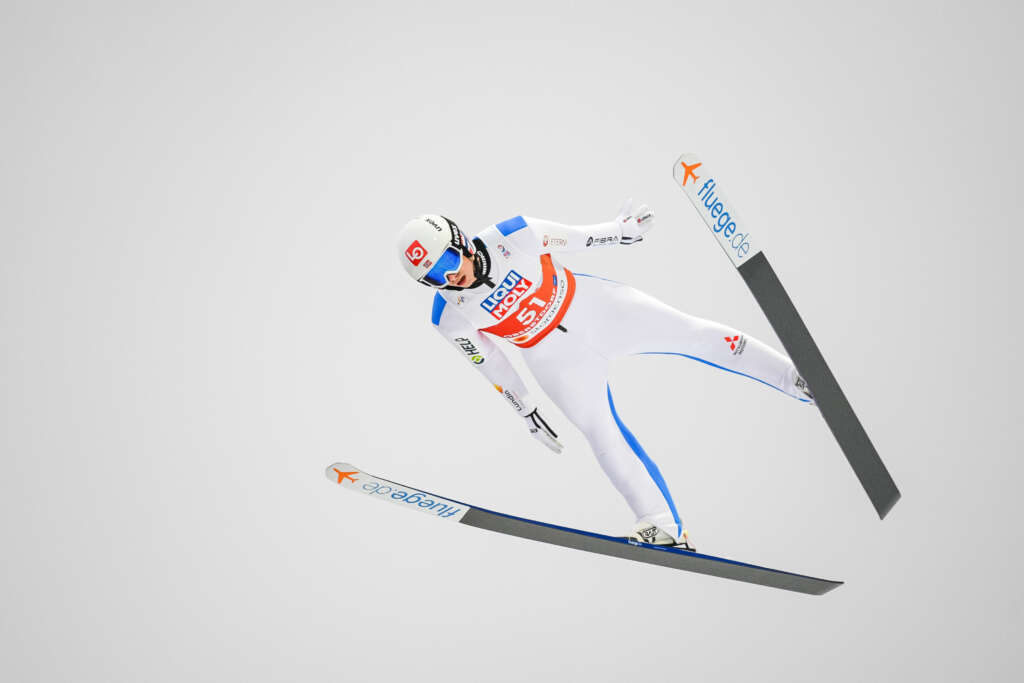 Fotos: K.Voigt Fotografie