Norway wins the cross-country relay ahead of Russia
It's the same finish as at the 2019 World Championships in Seefeld: Norway – Russia – France. As expected, the Norwegian cross-country stars around the outstanding Johannes Klaebo have won the 4 x 10 km men's relay of the World Championships in Oberstdorf and successfully defended the title from 2019. The quartet prevailed against strong competitors from Russia – especially the two final runners Klaebo and Alexander Bolshunov delivered a head-to-head race. The places three to six were also strongly contested, in the last lap the French final skier Jules Lapierre was able to break away a little and thus secure the bronze medal for France.
With the top line-up of Paal Golberg, Emil Iversen, Hans-Christer Holund and Johannes Klaebo as the final skier, the Norwegians continued their remarkable winning streak, with the "Norwegian foursome" taking gold 15 times at past World Championships. Only at the 1999 World Championships did the team of the then host country, Austria, win. Although the Norwegians were almost hopelessly behind before the first change, as Paal Golberg had obviously waxed incorrectly, his other teammates fought their way back into the race, and so, as expected, the big duel between Alexander Bolshunov and Johannes Klaebo took place on the final lap. After a tactical feeling out, Klaebo started the sprint shortly before the descent into the finish area, which Bolshunov was unable to counter and had to let him go. A strong race was delivered by both the Swedish team, which was able to achieve fourth place, and the team from Switzerland in fifth place. The DSV quartet of Jonas Dobler, Janosch Brugger, Lucas Bögl and Friedrich Moch had set this as their goal, but the team struggled from the beginning of the race and could not cope with the outside conditions. With a gap of 2.37,9 seconds the German team finished on rank seven, still behind Finland.
Results men's relay 4 x 10 km World Championships Oberstdorf:
1st Norway 1.52.39,0 hrs.
2.Russia + 12,0 sec.
3.France + 1.12,6 min.
We had a hard time at the beginning of the race, but we were able to fight our way back into the race lap by lap and finally defended our World Championship title successfully.
Johannes Klaebo
Norwegen gewinnt die Langlauf-Staffel vor Russland
Es ist der gleiche Zieleinlauf wie bei der WM 2019 in Seefeld: Norwegen – Russland – Frankreich. Die norwegischen Langlauf-Stars um den überragenden Johannes Klaebo haben erwartungsgemäß die 4 x 10 km Herrenstaffel der WM in Oberstdorf für sich entschieden und erfolgreich den Titel von 2019 verteidigt. Das Quartett setzte sich gegen die starken Konkurrenten aus Russland durch – vor allem die beiden Schlussläufer Klaebo und Alexander Bolshunov lieferten sich ein Kopf an Kopf-Rennen. Auch die Plätze drei bis sechs waren stark umkämpft, in der letzten Runde konnte sich der französische Schlussläufer Jules Lapierre ein wenig absetzen und somit die Bronzemedaille für Frankreich sichern.
In der Topbesetzung Paal Golberg, Emil Iversen, Hans-Christer Holund und Johannes Klaebo als Schlussläufer setzten die Norweger ihre bemerkenswerte Siegesserie fort, bei den vergangenen Weltmeisterschaften holte der "Norweger-Vierer" 15 Mal Gold. Lediglich bei der WM von 1999 siegte das Team des damaligen Gastgeberlands, Österreich. Obwohl die Norweger vor dem ersten Wechsel fast aussichtslos zurücklagen, da Paal Golberg offensichtlich falsch gewachst hatte, kämpften sich seine weiteren Mannschaftskameraden wieder ins Rennen zurück, und so kam es wie erwartet auf der Schlussrunde zum großen Duell zwischen Alexander Bolshunov und Johannes Klaebo. Nach einem taktischen Abtasten zog Klaebo kurz vor der Abfahrt in den Zielbereich den Spurt an, dem Bolshunov nichts entgegenzusetzen hatte und ihn ziehen lassen musste. Ein starkes Rennen lieferten sich sowohl die schwedische Mannschaft, die den vierten Platz erreichen konnte, als auch das Team aus der Schweiz auf Rang fünf. Diese Platzierung hatte sich das DSV-Quartett um Jonas Dobler, Janosch Brugger, Lucas Bögl und Friedrich Moch als Ziel ausgegeben, die Mannschaft tat sich jedoch von Beginn des Rennens schwer und kam mit den äußeren Bedingungen nicht zurecht. Mit einem Rückstand von 2.37,9 Sekunden kam das deutsche Team auf Rang sieben ins Ziel, noch hinter Finnland.
Ergebnisse Herrenstaffel 4 x 10 Km WM Oberstdorf:
1. Norwegen      1.52.39,0 Std.
2. Russland       + 12,0 Sek.
3.Frankreich      + 1.12,6 Min.
Wir taten uns Anfang des Rennens sehr schwer, konnten uns aber Runde für Runde wieder ins Rennen zurück kämpfen und schließlich unseren WM-Titel erfolgreich verteidigen.
Johannes Klaebo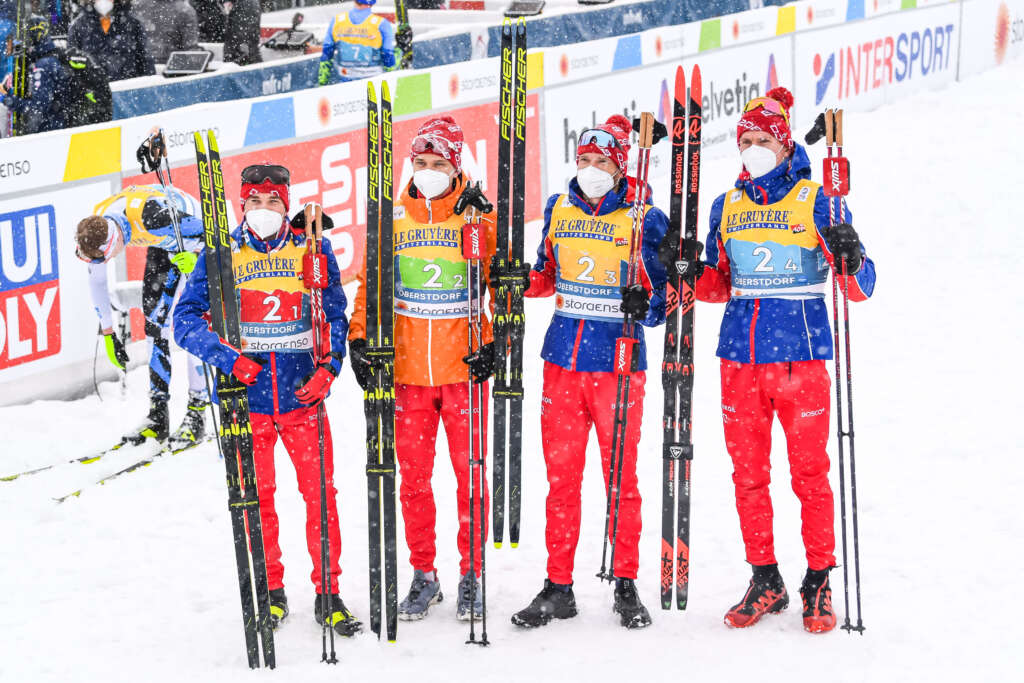 Stefan Kraft sails to gold from the large hill
He was one of the favorites for the medals, but he was not really expected to win, his performance from the normal hill was rather mixed. Again and again, health setbacks threw him off track and so the current World Cup season did not really go according to his expectations. But those who know Stefan Kraft know that he never gives up. So he makes history at the Nordic World Ski Championships in Oberstdorf and flies after the move from the normal hill with jumps of 132.5 and 134 meters to the world title from the large hill. With a gap of 4.4 points, the silver medal went in the absence of the big favorite Halvor Egner Granerud to his teammate Robert Johannsson, who ensured that Norway can still cheer. Shooting star Granerud, however, won the overall World Cup for the first time ahead of schedule. The bronze medal went to Karl Geiger, who was still in sixth place after the first run, but brought himself back into the game with a good second jump. For Karl Geiger it was thus the third World Championship medal from Oberstdorf. Pole Piotr Zyla, World Champion from Normal Hill, delivered another strong competition again, but finished fourth with jumps of 130 meters and 137 meters and a gap of 12.1 points. For defending champion Markus Eisenbichler it was only enough for 17th place after a messed up first jump and a fall in the final jump.
Results ski jumping men single large hill HS 137:
1 Stefan Kraft, AUT 276.5 points
2nd Robert Johansson, NOR – 4.4 points
3 Karl Geiger, GER – 9.1 points
The victory was not predictable, because I could not really convince at the World Championships so far. However, it was two technically good jumps which were enough for me to win the gold medal. After all the setbacks from the last weeks, I thank everyone who always believed in me and stood by me. If we now jump consistently in the team event, it could possibly come to another surprise.
Stefan Kraft
Stefan Kraft segelt zu Gold von der Großschanze
Er zählte zum Kreis der Favoriten und um die Medaillen, doch so wirklich war ihm der Sieg nicht zuzutrauen, war sein Auftritt von der Normalschanze eher durchwachsen. Immer wieder warfen ihn gesundheitliche Rückschläge aus der Bahn und so verlief die laufenden Weltcup Saison nicht so recht nach seinen Vorstellungen. Doch wer Stefan Kraft kennt weiß, dass er niemals aufgibt. So schreibt er bei der Nordischen Ski WM in Oberstdorf Geschichte und fliegt nach dem Umzug von der Normalschanze mit Sprüngen von 132,5 und 134 Meter zum Weltmeistertitel von der Großschanze. Mit einem Rückstand von 4,4 Punkten ging die Silbermedaille in Abwesenheit des großen Favoriten Halvor Egner Granerud an dessen Teamkollegen Robert Johannsson, der dafür sorgte, dass Norwegen dennoch jubeln darf. Shootingstar Granerud gewann jedoch schon vorzeitig zum ersten Mal den Gesamtweltcup. Die Bronzemedaille ging an Karl Geiger, der nach dem ersten Durchgang noch auf dem sechsten Platz rangierte, sich mit einem guten zweiten Sprung jedoch zurück ins Spiel brachte. Für Karl Geiger war es damit die dritte WM Medaille von Oberstdorf. Der Pole Piotr Zyla, Weltmeister von der Normalschanze, lieferte wieder einen starken Wettkampf ab, belegte jedoch mit Sprüngen von 130 Metern und 137 Meter und einem Rückstand von 12,1 Punkte Platz vier. Für Titelverteidiger Markus Eisenbichler langte es nach einem verkorksten ersten Sprung, und einem Sturz im Finalsprung nur zu Platz 17.
Ergebnisse Skisprung Herren Einzel Großschanze HS 137:
1 Stefan Kraft, AUT                  276,5 Punkte
2. Robert Johansson, NOR     – 4,4 Punkte
3. Karl Geiger, GER                  – 9,1 Punkte
Der Sieg war nicht vorhersehbar, da ich bisher noch nicht unbedingt bei der WM überzeugen konnte. Es waren jedoch zwei technisch gute Sprünge, die mir zur Goldmedaille gereicht haben. Nach all den Rückschlägen aus den letzten Wochen, danke ich allen, die immer an mich geglaubt und zu mir gehalten haben. Wenn wir jetzt ebenso im Teamspringen konstant springen, könnte es eventuell zu einer weiteren Überraschung kommen.
Stefan Kraft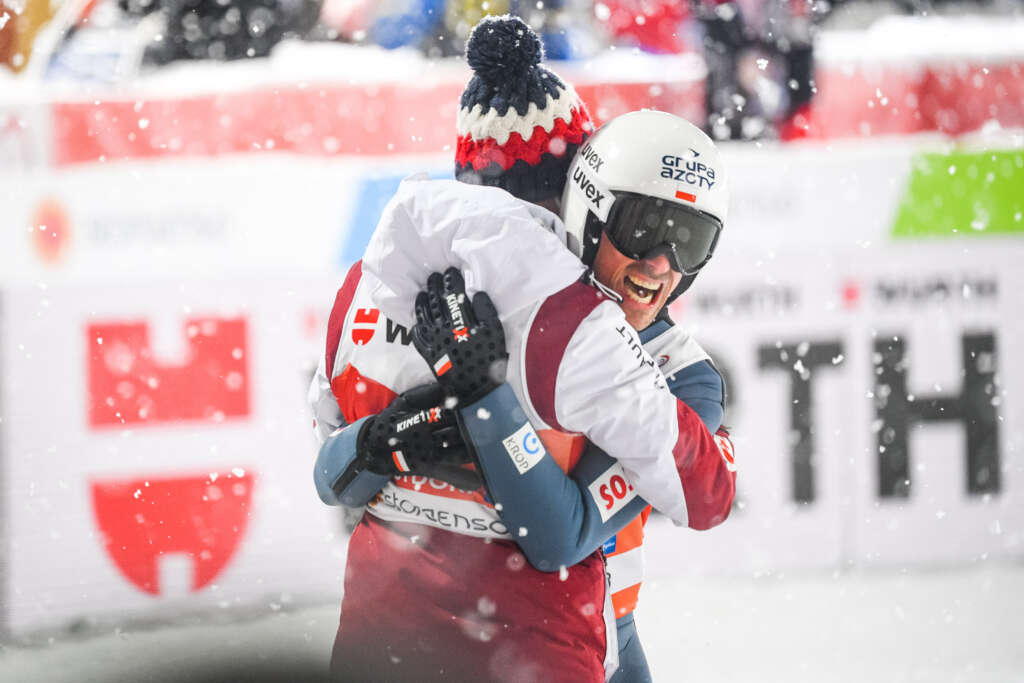 Fotos: K.Voigt Fotografie